Here is a handful of interesting, perhaps lesser-known archives of interest to fashion researchers.
Barnett Hook Papers and Needlework, Ohio University.
"Many people viewed master needleworker Barnett A. Hook of rural McArthur, Ohio as a curiosity during his lifetime—in fact, he sometimes made his living highlighting his status as one of "only four men in the United States who teach embroidery." Ohio U has digitized his papers and needlework samples. (Ok, a little local promo here.)
Pantograph Negative Collection, 1940-1945, Illinois Digital Archives
"This collection of images from the Pantagraph, a Bloomington, Illinois newspaper dating back to 1846, records the history of Central Illinois through the work of Pantagraph photographer-reporters between 1940 and 1945. The Pantagraph was known for its coverage of agricultural concerns as well as local sports and social events in 10 counties surrounding McLean County. "
A search on "fashion" or "apparel" yields a set of black and white photographs with styles from the era. "Campus Fads, Illlinois State Normal University," shows off jump suits, cuff bracelets, plain pumps, and an alligator clutch bag.
Europeana: Fashion Collections
"Europeana works with thousands of European archives, libraries and museums to share cultural heritage for enjoyment, education and research."
You probably already know about Europeana: catwalks, individual designers, costumes, jewelry items… nearly 800,000 items.
But I enjoyed discovering their "Fashion Stories": having all these digital objects to choose from means they can create digital collections such as Masks and Head Coverings, which seems apropos of the moment, and Corsets, a popular research topic among undergraduates I work with.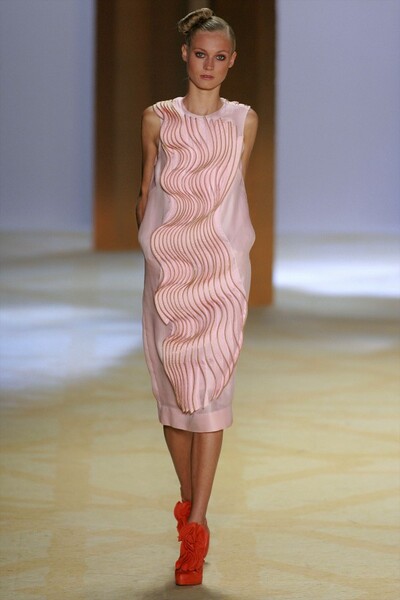 Los Angeles Public Library Digital Collection: Fashion AND Los Angeles Public Library Digital Collection: Clothing
" The Los Angeles Public Library Photo Collection contains images from the 1850s to the present, documenting all aspects of life in Southern California, with an emphasis on Los Angeles."
Subsets of a larger collection of photographs, circa 1930-1964.
3-D Tour of the Museum of Ethnic Costumes, Beijing Institute of Fashion Technology
This "Street View" tour from the Museum's Google Culture pages lets you walk through the museum and look at the exhibits. Zoom in to see more details in each display case. Included are outfits, jewelry, shoes, and even weaving looms.